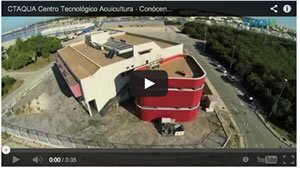 23/07/2014
Our new corporate video
At the Andalusian Aquaculture Technology Center, CTAQUA, we work to respond to the needs of the aquaculture and seafood sectors, developing custom-tailored solutions for their different technical and production processes.

Our facilities are located in El Puerto de Santa Maria, an excellent location in the province of Cadiz (Spain) that enables the development of our activities and projects with our strategic collaborators on a regional, national and European level. We firmly believe that innovation is a driving force for competition and economic growth of companies, and that is why our work is focused on results-based research.